Decorative Metal Wall Art, Silhouettes, and Wall Hangings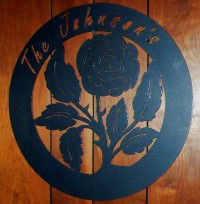 Our wall hangers our most personal items we make. We enjoy doing these so much because we know they will be displayed proudly with a family name, house number or unique saying. These wall hangers are yours to personalize for yourself, friends or family.
These are wonderful items that add certain something extra to any home, office or even an outside display. Many of these have been put outdoors or at the driveways edge for all to see. Finished are durable, but if they need a touch up you can get them same products we use at your local hardware store.
So pick out your design, size, and finish then add your personal touches. Shaped piece will have the inscription around the edge or at the bottom. Silhouettes will have inscription attached at the edge and will be part of the silhouettes.
If you don't see what you were looking for we make custom pieces from your ideas. If you want a specific picture or silhouette made into a wonderful metal display let us know be e-mail and we'll see if it can be done.